Family Chiropractic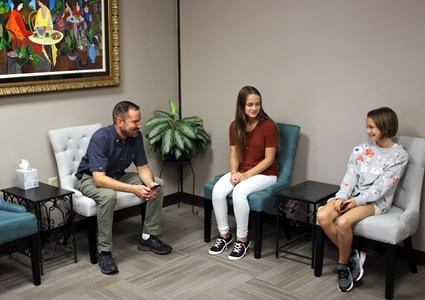 Fonke Chiropractic and Decompression Center is a family-friendly place. The moment you walk in, you'll see people of all ages around the office. Kids are playing and can be themselves here. We welcome entire families to book appointments with Dr. Ben.
Growing up around chiropractic, Dr. Ben has long understood the importance of care for kids. His youngest patient has been his son Vincent, who was adjusted just after birth. Often, there are newborns just weeks or month old in the office. As a multigenerational chiropractor, Dr. Ben sees people up to those in their 90s.
Improve Your Family Dynamic
You know what it's like to be in pain. Have you considered the toll it can take on your entire family? You may feel irritable. You can't contribute to your family life like you normally would. Problems and stress seem to crop up everywhere. Your entire family life is interrupted. Our goal is to make sure that you and your loved ones can do everything you want and need to do with no added stress to your already-busy lives.
You deserve to be happy, healthy and energetic and feel incredible!
Frequently Asked Questions
Why would a baby or young child need to be adjusted?
It's our belief that every child would benefit from being checked by a chiropractor. Now, that does not mean that every child needs to be adjusted-simply a check will tell us whether they require that. If your baby had a traumatic birth, rolled off the bed or was dropped, it's particularly important you take them to see a chiropractor.
As a child gets older, they might stare at an iPad for some time, play sports, fall off their bike and get the normal bumps and bruises of childhood. As your child is growing and developing, we can make sure their spine is healthy. If there is any potential problem identified, we'll address it and stay on top of it.
Is there anything different about the new patient process for babies or children?
The paperwork for our pediatric patients has a few additional questions, such as asking about their delivery. Otherwise, the forms are no different. When it comes to care, we'll take an even gentler touch than we do on our adult patients, ensuring what we do is appropriate for their age.
How long will it take for my child to get better?
It's remarkable to see how quickly children respond to care. They typically don't require as many visits as an adult would or need to be seen with as much frequency as someone older with a chronic issue.
What if my child is nervous about getting adjusted?
It's understandable that a child or adult would be a little nervous when visiting a new doctor's office. Know that we can adjust you or your child according to your preferences. He will talk you and your child through the process before starting, making sure there are no surprises. Sometimes Dr. Ben will adjust a young child while they are being held by the parent or laying on the parent. He will make every effort to make the experience as easy as possible for the child and the parents.
Do we need to see the chiropractor forever once we start?
Always know that you are in charge of your care with us. We offer pain relief and wellness, letting you decide how you'd like to proceed at all times. You can discontinue care when you want to. Many people want to have wellness care to prevent future issues and maintain their progress, while others leave when their pain is gone and will call us if they need care again.
Can chiropractic help with colic?
Colic can often be the result of pain in the musculoskeletal system. A baby cannot tell you how they're feeling, which means they'll simply cry. The medical profession may not have any answers for colic and tell you to wait it out. It won't hurt to bring your baby to our office and see if we can assist you. Dr. Ben has helped many children with this issue.
What is the cost for a child's or baby's adjustment?
We want to make sure it's affordable for you to bring your kids in for adjustments. Anyone under 18 has a flat fee of $25 per adjustment.
Why would I want to consider being under maintenance care?
Once you get out of pain and have your life back, you can choose to keep coming in for periodic visits called wellness or maintenance care. People choose it because they have such a
positive experience with chiropractic
that they want to keep coming in to continue benefiting from the results. We don't pressure you, however, letting you make the decision of what is best for you.
Other Family Practices in the State
If you or your family members are spread across the state, you can access quality care from any of the following offices:

Family Chiropractor Cary NC | (919) 234-1809