Chiropractic Care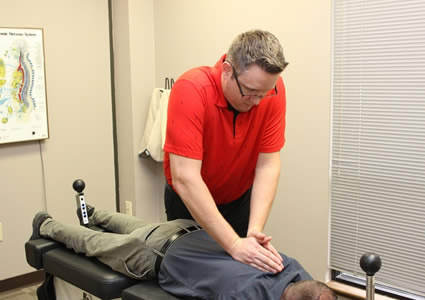 When you become a patient at our office, your spine will be fully evaluated from top to bottom. Muscle tone, strength, mobility, alignment, and symmetry are just a few of the assessments Dr. Ben will make. He'll observe your gait, posture and palpate your spine to feel how it's structured.
With all this information, Dr. Ben can locate areas of vertebral subluxation where your spine isn't able to function, hindering your body's ability to operate at optimum levels. As a result, you might have pain, decreased mobility or dysfunction.
These areas of subluxation can be addressed through hands-on methods, instruments and/or spinal decompression. Dr. Ben will determine which techniques are best for you based on the findings of your thorough examination.
Our Effective Techniques
Dr. Ben's main chiropractic techniques include Cox, Diversified, Thompson and Activator®.
Cox: A hands-on decompression of the spine, taking pressure off the discs, nerves, and improving motion.
Activator: An instrument-based method that is gentle and precise, applied to the spine, extremities and muscles.
Diversified: A hands-on technique that is designed to restore your spinal alignment and range of motion.
Thompson: A drop table assists in the adjustment, effective in addressing pelvis alignment and sacroiliac joint dysfunction.
Experience the Benefits of Chiropractic
When you are under care, you can find relief from conditions such as
Back pain
Neck pain
Headaches
Sciatica
Pinched nerves
Limited range of motion, flexibility and mobility
Poor posture
Failed Back Surgery Syndrome (FBSS)
Chiropractic is focused on helping your body heal and work better by improving the way your nervous system and musculoskeletal system function.
Frequently Asked Questions
Will I get adjusted on my first visit?
We understand that if you're in pain, you want to feel better as soon as possible. Most of the time, our patients get adjusted on the first visit. If you need to be referred out for X-rays, however, you'll be adjusted on your second visit.
No, and it doesn't work to address every health condition. Dr. Ben often partners with other doctors, referring patients to them or co-managing cases to benefit the patient.
Do you work with medical doctors?
Yes. We work with medical doctors and other area health professionals. Check out our Resources page for more information!
Will you give me exercises to do?
Yes. Dr. Ben will email you specific exercises with complete instructions on how to complete them, all designed to help your particular condition.
Can someone who has had back surgery see a chiropractor?
Yes. Many people who have had back surgery end up with pain above and below the surgical sites. Dr. Ben has gentle, precise techniques that are appropriate for people post-surgery.
Contact Us Today
Contact our team now to schedule your first appointment! We have same-day visits available.
CONTACT US »

Chiropractic Care | (919) 234-1809