Auto Accidents/Personal Injury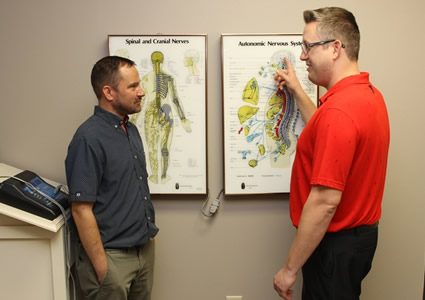 Have you ever been in an accident? If so, you know that your health can be severely affected by this unexpected form of trauma. Your spine often takes in the most force, particularly during a car accident. The quick acceleration and deceleration (whiplash) move your spine rapidly in a way it's simply not designed to do.
As a result, the muscles, ligaments and joints are affected. If you don't rehabilitate your injury as needed after this trauma, you may end up with long-term damage. At Fonke Chiropractic and Decompression Center, we can evaluate you and determine whether you can benefit from having chiropractic care or spinal decompression.
Why You Need to See a Chiropractor
If you have a broken bone, naturally, the emergency room is the right place to turn. There is only one type of doctor, however, who has specialized expertise in restoring your spinal function: a chiropractor. Your spinal damage can be effectively addressed with our gentle methods.
We Can Co-Manage Your Case
Dr. Ben has great working relationships with a range of specialists in our area, including medical doctors, physical therapists and massage therapists. This multidisciplinary approach is particularly effective for more serious cases of trauma. We feel that most of our patients benefit from having a good primary care physician, massage therapist and physical therapist on their team.
We encourage and support this collaboration. When you sign a release, you give us permission to share information on your case with your other practitioners, allowing us to work together to come up with the best treatment plan for you.
Frequently Asked Questions
When should I see a chiropractor after my accident?
The sooner, the better! If the area that is affected isn't addressed in a timely fashion, it can accelerate the arthritic process in the joint. In the future, you may see a reduction in your mobility, function and overall quality of life. If you have chronic pain, you may end up being dependent on pain medication or have to resort to getting surgery done.
What is the new patient process like for someone who has been in an accident?
The
intake procedure
is much the same for an accident patient as it is for anyone else. The difference is just some extra paperwork, which will give us the details of your accident that we need to understand how best to help you. If you require X-rays, we will be happy to refer you to a nearby facility to have images taken.
If you have been in an accident, you may already be in pain. We understand that you don't want it to worsen. If we are working on an area where you have pain, there may be some discomfort. We will do everything possible to minimize it and make you comfortable. Your feedback is welcome at all times during treatment.
Will I get adjusted on my first visit?
You want your relief to start quickly. We want that, too! If you do not need X-rays, you will be adjusted on your initial visit with Dr. Ben. The majority of our patients get adjusted on the first day.
Yes. We work with insurance or with your lawyer, depending on your situation. Assignment is accepted at our office, which means we get reimbursed once your claim is settled. No money will be collected up front for our auto accident cases.
Regain Your Health
Find out what we may be able to do to help improve your well-being. Contact us now to schedule your consultation for auto accidents/personal injury Cary!
CONTACT US »

Auto Accident and Personal Injury Chiropractor Cary NC | (919) 234-1809